Acclaim
Brass Transit: A Fresh Take on Chicago with the NC Symphony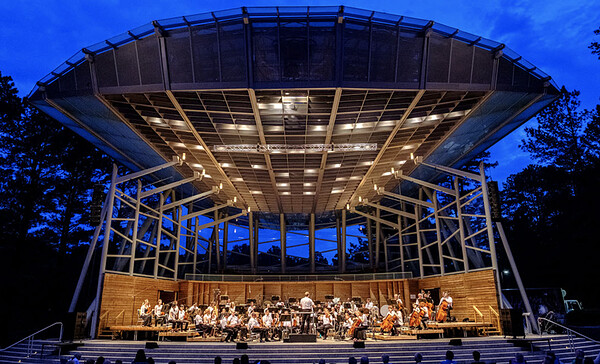 Brass Transit: A Fresh Take on Chicago with the NC Symphony
By Chelsea Huber
July 12, 2019 - Cary, NC
The quintessential brassy rock music of Chicago resounded in Koka Booth Amphitheatre with the North Carolina Symphony's penultimate Summerfest performance. Brass Transit, an ensemble of award-winning musicians tackling the band's formidable discography, brought the audience back to the classic rock era with the pristine support of the NC Symphony. Conductor Christopher James Lees kept every instrument together, from saxophone to drums to viola, for a supportive balance.
Brass Transit technically is a "cover band" but is largely referred to as much more than a mere tribute group. In fact, one of the band's self-described goals is to capture "the raw energy of [Chicago's] early performances." The capacity audience at Koka Booth would definitely agree – Brass Transit's high energy ensured that even the greenest Chicago fan would enjoy the performance. The extensive and decade-spanning songbook of Chicago is surely daunting, but Brass Transit, formed in 2008, is definitely up to the challenge of planning and executing a winning tribute in just one concert.
Frequent solo moments in the electric guitar (Bob McAlpine), drums (Paul DeLong), keyboard (Don Breithaupt), saxophone (Phil Poppa) and trumpet (Tony Carlucci) were surprising and electrifying in songs like "Make Me Smile." "I'm a Man," and "Call on Me." Lead vocalist Ian Jutsun's powerful voice was clear and bright, with just enough emotional depth to make ballads more meaningful. In "Searchin' So Long," an oozing, mysterious intro in the strings seamlessly blossomed to include sultry trumpets too, all supporting Jutsun's passionate interpretation. The concert wasn't all ballads and slow dancing, of course (although the latter did break out in the audience more than once), with beloved hits like "Saturday in the Park," "Questions 67 and 68," and "25 or 6 to 4" (performed as the encore) channeling the raw energy that made Chicago so popular.
Bassist and supporting vocalist Jay Speziale played a more background but no less crucial role than the orchestra itself, creating the tight sound that's necessary for this era of rock music. The NC Symphony's brass section was so well blended that intricate horn patterns sounded like one (very loud) instrument. The strings, naturally more audible in the less brass-heavy songs, added the unique touch of romance that only strings can provide. All these sections in tandem together with Brass Transit produced a fresh, but rock-solid sound with lots of flourish.
Like the song "Old Days" says, it's likely that not only old memories and good times were reimagined with Brass Transit's performance, but also new memories were created with Brass Transit and the NC Symphony together.
One Summerfest program remains: beach music, with the Embers. Last call!
Chelsea Huber

Classical Voice of North Carolina