VSO Shines in Festival Kickoff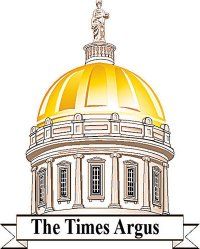 VSO Shines in Festival Kickoff
Music Review
Jim Lowe / July 04, 2017
By Jim Lowe, Staff Writer
MANCHESTER – The gods were with the Vermont Symphony Orchestra Sunday as it began its annual Summer Festival tour at the Riley Rink. After days of monsoon-like conditions, the skies cleared up for a gorgeous summer evening — and hundreds were there to share picnicking and jubilant holiday music
The VSO was guest conducted by Christopher James Lees, assistant conductor of the Charlotte (N.C.) Symphony, and he proved a traditional but able leader. His inviting program, " E Pluribus Unum," was filled with the usual holiday fare — with two splendid exceptions.
Argentina-born bandoneonist Héctor del Curto, founder and director of the Stowe Tango Music Festival, was the soloist in the final Presto of the tango-based "Aconcagua" Bandoneon Concerto by Argentinean- American composer Astor Piazzolo. This brilliant and colorful work features the accordion-like instrument in a virtuoso role, and del Curto proved a master, of both the rapid-fire virtuosity and the overt Latin expressiveness. Most rewarding was an intimate duet in the piece between del Curto and violinist Kathy Andrew, the VSO's associate concertmaster.
Syria was represented by the world premiere of a work celebrating diversity by a recent immigrant composer. Kinan Abou-afach's "Speak" is a brilliant and dramatic work with a Middle Eastern flavor in which disparate voices— instrumental lines — clash and come together, part and regroup. While its language, though tonal, is decidedly contemporary, the work was received enthusiastically by Sunday's audience.
Lees continued to tout this country's history of immigration in his affable commentary from the stage, underscoring immigrants' roles in American music — and that included a lot of familiar holiday works. The VSO was in top form as it performed "A Tribute to Irving Berlin," arrangements from the Russian native's Broadway shows.
Austrian-born composer Erich Korngold's Suite from "The Sea Hawk," the swashbuckling Errol Flynn film, was brilliant. And British-born Kenneth Alford's "Colonel Bogey March," the whistled theme from the 1957 film "The Bridge Over the River Kwai," was a rouser.
Much of the music was all-American. While three well-known selections by Leroy Anderson felt tired and trite, the "Duke Ellington Fantasy," a well-arranged medley of the Duke's greatest hits," felt immediate and contemporary, as well as familiar. Lees and the VSO delivered it with real joy.
And joy was pretty much the mood of the VSO's opening concert of its Summer Festival Tour — which closed with the traditional spectacular fireworks.
VSO SUMMER FESTIVAL TOUR
Remaining performances:
– Tuesday, July 4: Shelburne – Shelburne Museum
– Thursday, July 6: Chittenden – Mountain Top Inn
– Friday, July 7: Ludlow – Okemo Resort
– Saturday, July 8: Randolph – Three Stallion Inn
– Sunday, July 9: Stowe – Trapp Family Concert Meadow
All performances are at 7:30 p.m., with gates open at 5:30 for picnicking. For tickets or information, call 802-864-5741, ext. 10, or go online to www.vso.org.
Jim Lowe

The Times Argus